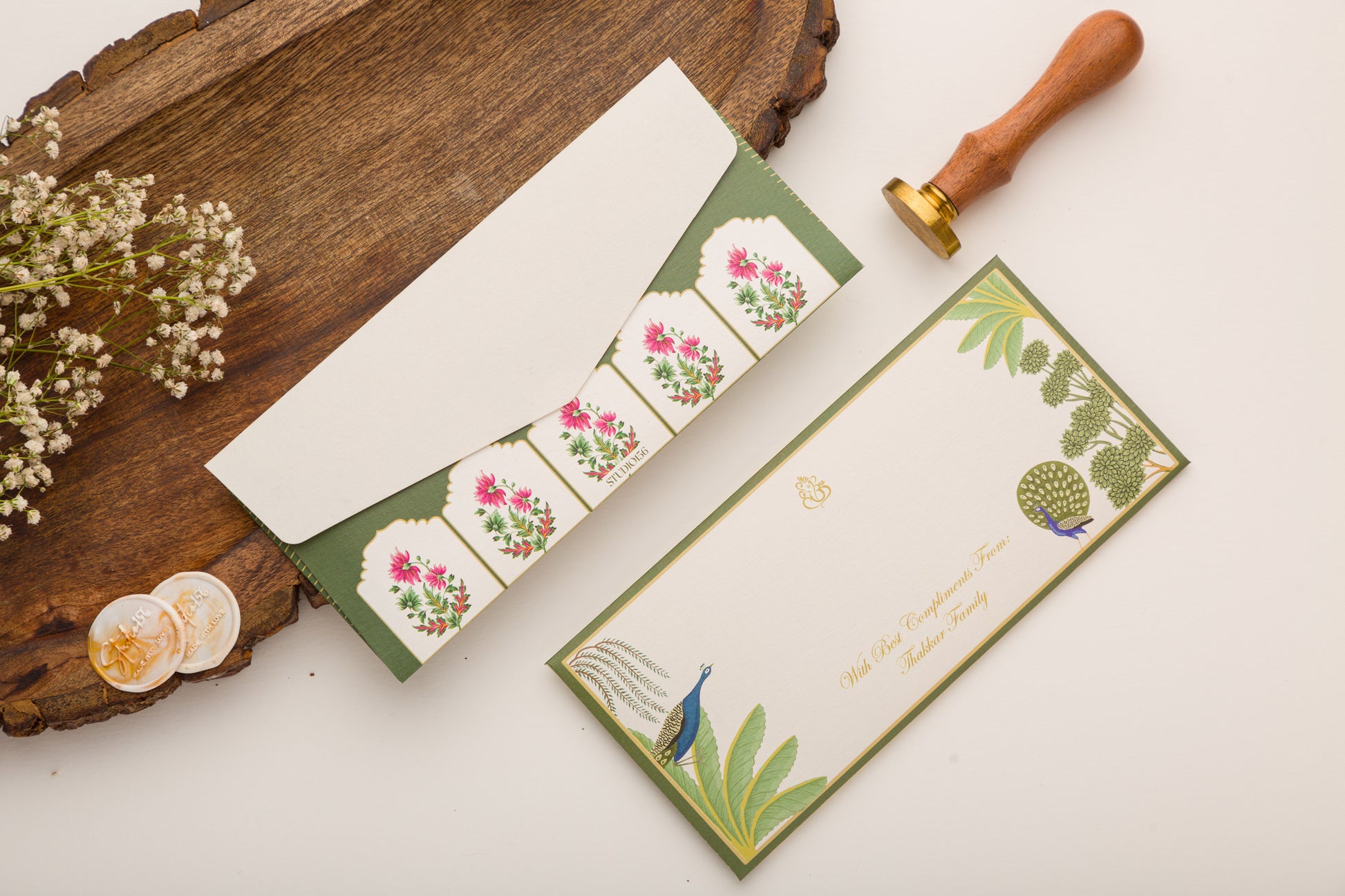 Personalized Money Envelopes | The Modern Pichwai
Sale price
Rs. 900.00
Regular price
Tax included.
Product description
Details
Shipping
The Modern Pichwai
Highlights
Materials: Textured 220GSM Cardstock

Handmade

Customized products take 5-7 days to dispatch.
Introducing our stunning Modern Pichwai inspired Shagun cover - a perfect blend of traditional and contemporary design. This beautiful cover features a modern interpretation of the classic Pichwai style with its bold and vibrant colors, intricate detailing, and contemporary patterns.

Crafted from high-quality materials, this Shagun cover is designed to protect your precious gifts and money during traditional ceremonies and special events. It is spacious enough to accommodate multiple notes or coins, ensuring that your offerings stay organized and secure.

The cover is also incredibly versatile and can be used for a range of occasions, from weddings and birthdays to religious ceremonies and cultural festivals. Its unique and contemporary design is sure to complement any modern or traditional attire, adding a touch of elegance and sophistication to your look.

This Modern Pichwai inspired Shagun cover is not just a functional accessory, but a beautiful piece of art that can be treasured for years to come. It is perfect for those who appreciate the beauty of traditional Indian art with a modern twist.

So why wait? Add this exquisite Modern Pichwai inspired Shagun cover to your collection today and make your next special occasion even more memorable.


Please note:
- We do not accept any returns/exchange/refunds
- If you have any questions please free to send us a message
- While Purchasing you are agreeing to our terms and conditions

- Crafted with High Quality Textured Cardstock (220 GSM)
- Can Be Personalised
- Size : 3.8 by 4 Inches
- Pasted with high quality tapes by hand
- Isn't mass produced and is made with love
- Handcrafted In India
- Please add your full shipping address with phone number while checking out
Studio 156 offers Free Shipping on all Products. Customized products take 5-6 days to dispatch.